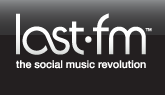 One of my favorite music websites, Last.FM, which was bought by CBS a couple of years ago, will start broadcasting on HD Radio in NY, LA, SF and Chicago on Oct. 4th. The appeal of the music streaming site to me is that it's software tracks what songs users play (via your iTunes, Winamp, etc.) and shows you who your favorites are, who your friends favorites are, suggests new music and a whole bunch more.
Last.FM radio will apparently "
feature an eclectic mix of music aggregated and influenced by the service's user-generated weekly charts, combined with live performances and interviews
". It would be really cool if once in awhile they chose individual users playlists to broadcast almost like satellite radio's
XMU station
and their blogger DJ'd programming or the old
Indie 1031 Coup D'etat
. Even though NOBODY is gonna buy an HD Radio at this poing, its good to know there is an alternative to the serious mess that is crappy commercial radio in LA. I will be listening online and my cellphone.